So, I feel like this year I have just been trying to go so quickly forward with photography…that I had missed taking the time to learn my new camera and get back to the basics. Going back and looking through my photos I have found things that I like…and some discrepancies. Some pictures didn't have any main focus points…the whole pictures being somewhat blurry. I got out my Xti and noticed absolute sharpness with the same lens…and it got me thinking. I should really test this out (since apparently a lot of 7D users have been having a hard time getting sharp images).
I call this the Gnome Test. Today I tested my Rebel XTi and the 7D. I put them on the exact same settings to test the auto focus…and to see what kind of readings each camera would come up with in Program Mode.
Both were shot in program mode. ISO 400 for the first test and ISO 800 for the second. Evaluate metering. AF mode: One shot, standard picture setting, high res JPEG, auto white balance.
Here is the first test. The top is the Rebel, the bottom is the 7D. This test is done using a Canon 50mm 1.4 lens.
Top Image: 1/100, 2f, -1/3, ISO 400
Bottom Image: 1/60, 2.5f, -1/3 ISO 400
Auto focus point is on the nose (this is a cropped image).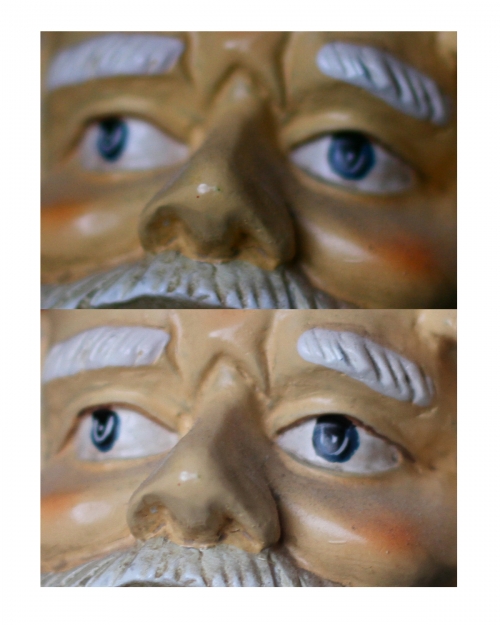 The second test I did the same thing…just a different focus point. The focus point is the top of the hat.
Left Image (Rebel): 1/50, 1.6f, -1/3, ISO 400
Right Image (7D): 1/60, 1.4, -1/3 ISO 400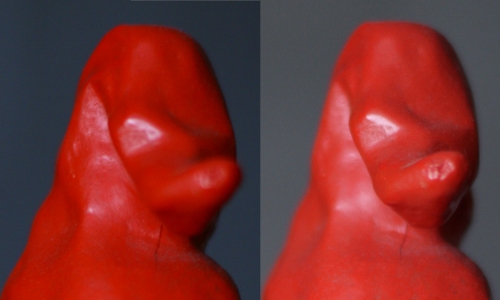 Bumped up the ISO to 800 and did it again.
Top Image: 1/125, 2.2f, -1/3, 800
Bottom Image: 1/80, 3.2, -1/3, 800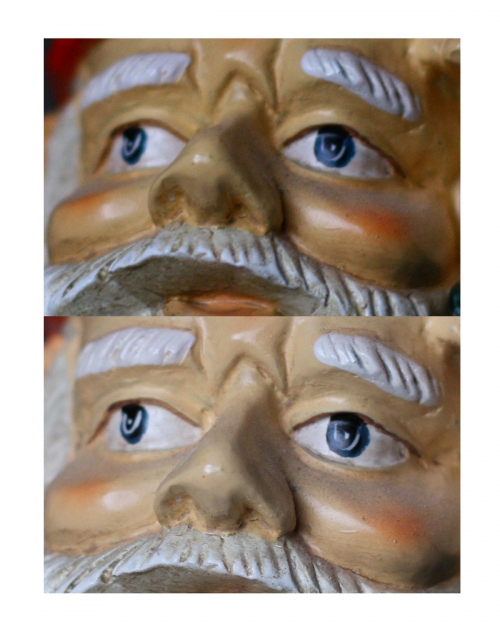 Left Image: 1/80, 1.8, -1/3, 800
Right Image: 1/60, 1.8, -1/3, 800


Conclusions: The 7D definitely out sharpens the Rebel XTi. The white balance is significantly better and so is the general exposure. Definitely noticed less noise when 100% zoomed with with the 7D. So far, the 50mm seems to be working OK. Tomorrow I will test my Tamron 28-75 2.8f lens. That is the lens that has been giving me some troubles with this camera.
I am glad I am finally getting around to doing this. And please, CONSTRUCTIVE criticism and suggestions are welcome.